Razor burns aren't part of the facial grooming package. You can give yourself a smooth close shave without any irritations. With this Philips Trimmer, you are guaranteed an effortless grooming experience for a full 90 minutes, with just one hour of charging it. The trimmer's DuraPower technology ensures that it consumes less power so it lasts longer than conventional trimmers. Once you're done using it, detach the trimmer's head and rinse it under the tap.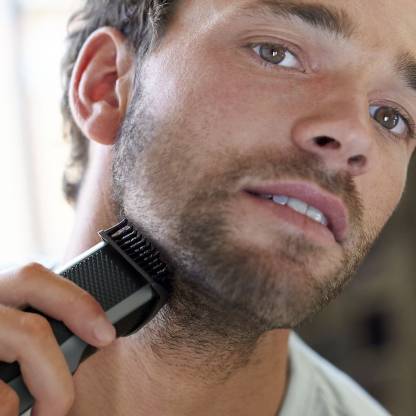 "
Lift and Trim comb for an even trim
The lift and trim system lifts the low-lying hairs and leads the hairs to the level of the blades to ensure an even trim. Be it a long beard, short beard, stubble look or sharp lines, this trimmer will come in handy that will let you try out these styles.
"
"

DuraPower technology for a long-lasting battery life

The DuraPower technology minimizes the friction of the blades. This function protects the motor and prevents the battery from getting overloaded. Therefore, the life of the battery increases by 4 times.

"

"

Skin-friendly blades for a smooth trimming

To ensure a smooth contact with the skin, the titanium-coated blades have rounded tips that prevent scratching and irritation. The steel blades brush lightly against one another to sharpen themselves. Hence, it can be used for years.

"

"

20 lock-in length settings

The 20 integrated length settings make sure a comfortable trimming. By using the zoom wheel, you can adjust the length setting from 0.5 to 10mm to get precision steps.

"

"

90 minutes of cordless usage

A perfect addition to your grooming kit, this trimmer just takes 1 hour to get fully charged. Once charged fully, the trimmer can be used for 90 minutes cordlessly. Moreover, it can also be used while plugged in for charging.

"

"

Smart light indicator

This trimmer also features a battery indicator to indicate the battery status. Therefore, it allows you to charge the device on time. So that, you do not end up with an empty battery at the middle of the trim.